I've been thinking about what trends we can look forward to seeing this year in young adult fiction, and I thought I'd start by focusing on book covers. I did a
similar post
last year, and some of the trends I mentioned there are continuing, but I've noticed a few new things, as well.
Continuing trend: handwritten covers
The Art of Not Breathing
by Sarah Alexander
Liars and Losers Like Us
by Ami Allen-Vath
The Way Back to You
by Michelle Andreani
Suffer Love
by Ashley Herring Blake
The Distance From A to Z
by Natalie Blitt
A Study in Charlotte
by Brittany Cavallaro
The Museum of Heartbreak
by Meg Leder
How It Ends
by Catherine Lo
Save Me, Kurt Cobain
by Jenny Manzer
The Year We Fell Apart
by Emily Martin
This Is Where It Ends
by Marieke Nijkamp
The Girl Who Fell
by Shannon M. Parker
My Kind of Crazy
by Robin Reul
Jerk Bait
by Mia Siegert
Continuing trend: girls in dresses
I'm not sure if this trend faded out for a while, but it's back now.
The Great Hunt
by Wendy Higgins
Banished
by Kimberley Griffiths Little
Kingdom of Ashes
by Rhiannon Thomas
The Forbidden Orchid
by Sharon B. Waller
New trend: water
Whether it's an ocean, someone falling into water or already submerged underwater, someone near water, or water in a glass bottle, I've noticed a lot of covers feature water in some way.
Tell the Wind and Fire
by Sarah Rees Brennan
Blackhearts
by Nicole Castroman
Lessons in Falling
by Diana Gallagher
The Girl From Everywhere
by Heidi Heilig
The First Time She Drowned
by Kerry Kletter
Fear the Drowning Deep
by Sarah Glenn Marsh
The Mystery of Hollow Places
by Rebecca Podos
Underwater
by Marisa Reichardt
Summer of Sloane
by Erin L. Schneider
Salt to the Sea
by Ruta Sepetys
The Abyss Surrounds Us
by Emily Skrutskie
The Crown's Game
by Evelyn Skye
New trend: falling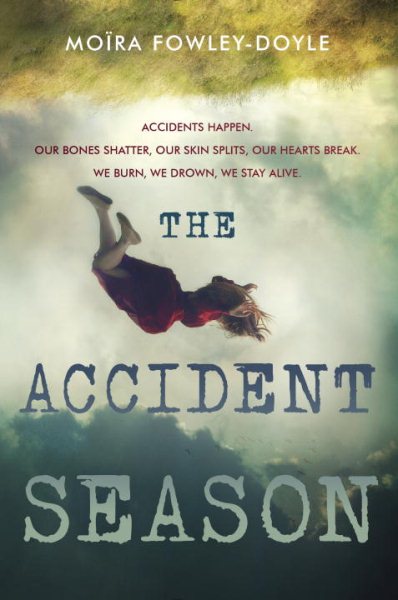 As mentioned at
Stacked Books
, people falling also seems to be a new trend.
The Accident Season
by
Moïra Fowley-Doyle
The Love the Split the World
by Emily Henry
Ascending the Boneyard
by C.G. Watson
Are there any book cover trends you've noticed for this year? Let me know in the comments!